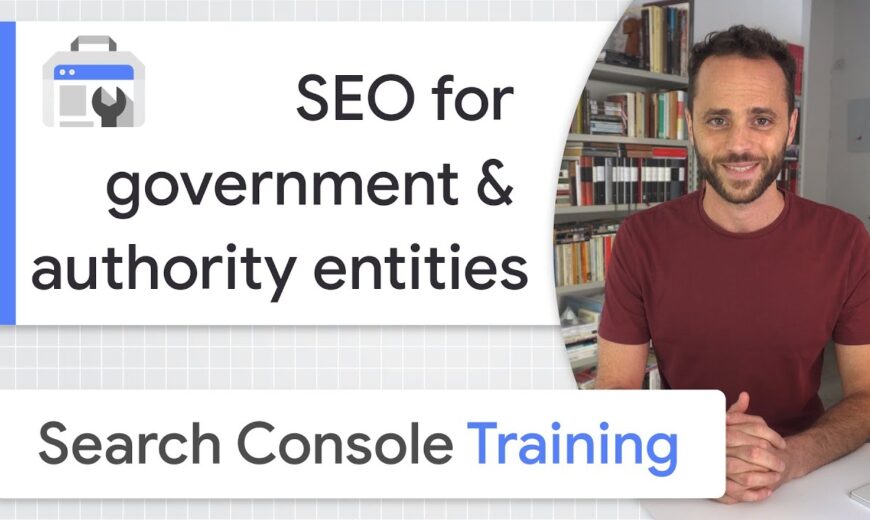 SEO for Government Websites
Commencing with some basic search engine optimization which you had to run on your website. These are various practices to boost up your content appearance and can find ability on Google Search.
1. Create unique page titles with accuracy. A title tag in your webpage HTML tells both search engines and user what is the topic of a page is. When your page displays in a search outcomes, the content of the title tag may displays notable in the search results snippet.
2. It should be both short and informative. if the title is too long, short or otherwise seems less relevant Google could show only a specific part of it or one that's automatically generated. Google may also show several titles.
3. Use the description method tag. A description method tag in your HTML page tells Google a summary of what the page is about. However, the title should be only a some words or a short line, the description should be long as a paragraph.
4. Description method tags are important because Google might use them as snippets for your pages. So make sure to write a description that will both inform and interest the users. Use heading tags to focus important things.
5. Use meaningful headings around your content to indicate important topics and create the piece by piece structure for your pages. These will make it easier for users and search engines to locate through
your content.
6. Enhance site navigation with internal links. Government webpages usually provide advice on multiple
subjects to large audience. This can make it tough for users and search engines to understand where
to search content and what is most significant. To make it helpful, first, make it easy for users to known the difference between regular text and links.
7. Secondly, use descriptive text in the links. This will help users and Google understand that what the link pages are about. In addition, your site's information hierarchy will help make it clear what is most important and how to navigate between sections.
8. You should start by making sure the site navigation menu has all the important sections, Add structured data to your pages. Structured data is code that you can add to your webpages to explain your content to search engines. Google uses this information to retrieve your content in useful ways.
-There are some types of structured data governments can positively use.
Here are three FAQs for pages providing information on areas where users might have recurring questions that how-to for pages, where you have step-by-step guidance on and how to do something like getting a certificate, a visa, or a permit, and bread crumbs to help describe how your website is organized.
After boosting up the content, Be sure that Google can locate and index your pages. This can be easily uncover reducing the index coverage report. Log into Search Console, and find the report in the sidebar. When you open it, the default view shows a summary of indexing errors on your website.
Click to show valid with warnings and excluded pages too. each status means. Errors prevent pages
from being indexed. Pages with errors will not be shown in Google, which means a losing of traffic on your website. Valid with warnings are pages that may or may not be shown on Google, depends on the problems, but there is a problem that you should look into. Valid pages have been shown and can be shown on Google Search. Excluded pages were not shown and could not appears in Google, but either we think that is your intention, or we think it's a right thing.
Clicking a row in the table will tells to a more explained report, showing examples of pages that are affected and provide more data on the issue. You can also grab a link by using the Share button to share the details with a developer that can perform code changes to your website. After we have to fixed the error, click Validate Fix, and Google will validate your changes. To help search engines discover all your content, it's very helpful to tell them which pages, video and images to crawl on your website. This is done by submitting a sitemap. If you have a site map, you can submit it to Google and track its status using the site maps report on Search Console, If you submit a site map using this report, you can see whether we were able to read it.
Now that you have checked that your pages are being located and crawled, however, studying that how your pages are performing using the performance report. you will find a chart, clicks and average position of your website. You can change tabs to view the information broken down by pages, countries
and search appearance. Here are four things to look for when analyzing your performance data. If the number of impressions is extremely higher than clicks.
In other words, if the Click-Through Rate, or CTR, is very dim for a query or a webpage, you might need to make good titles and descriptions to make your snippets more impressive in search results If search queries that you expect to see do not appear, your site might not have enough useful data relevant to those queries. If essential pages on your site are not in the webpages list, there may be an problem with them. so, you should use inspect URL to find out. Check how many queries show your website when the user does or does not include your site's name. This might show interesting areas where people are finding for the content related to your website.
These are just a few examples of what information you can learn from the default reports. Google Trends provides permission to a unfiltered sample of actual search requests made to Google. It's anonymized, categorized. This allows us to display interesting topics from around the globe or down to city level. The data can be useful for governments in many ways. Here are two ideas. Check top queries in your area and compare with it to the queries you are getting traffic from, the ones we just discussed from the performance report.
If there are queries missing from your traffic, check if you have content on that subject, and make sure it's being probed and indexing. Check related queries to essential topics which you are finding interested. This might surface rising queries and help you prepare your website for them, for instance, by adding content related to it. Try it out by visiting trends.